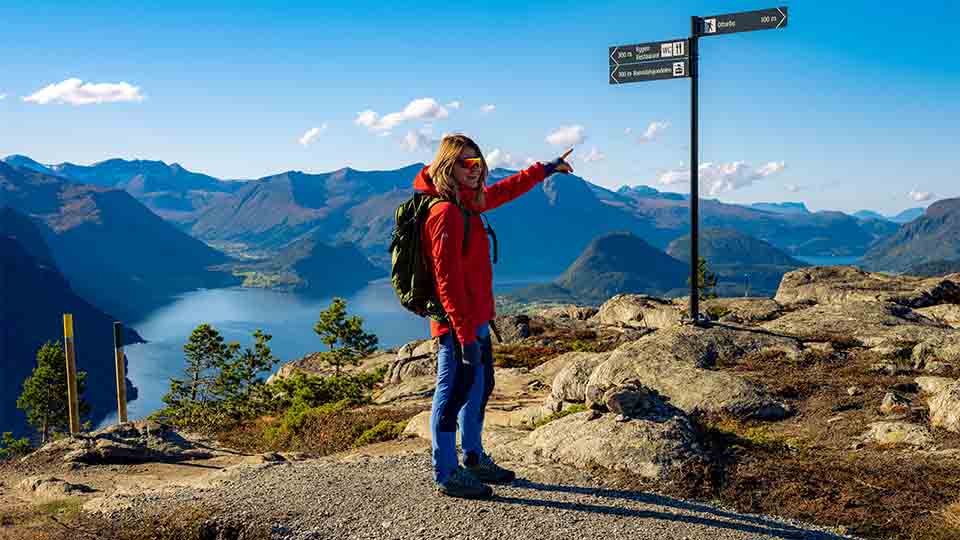 Why Åndalsnes?

At the end of beautiful Romsdalsfjord lies the small town of Åndalsnes, idyllically located in the valley of Romsdal by the mouth of the river Rauma. Åndalsnes is home to some of the highest mountains in Norway and many scenic attractions such as the Rauma Railway, Trollstigen road, mount Trollveggen and the Romsdalseggen ridge. Enjoy the lively emerald green river Rauma, lush waterfalls, steep mountains and magnificent bridges.
"Then he told him about Åndalsnes, a tiny settlement up in Romsdalen valley, surrounded by high mountains which were so beautiful that his mother had always said that that was where God had started when he was creating the world, and that He had spent so long on Romsdalen that the rest of the world had to be done posthaste to be finished by Sunday." – Jo Nesbø, The Bat
What to see & do in Åndalsnes

Highlights include the spectacular Trollstigen road, an exceptional driving experience up a series of narrow hairpin bends, providing a great view of the dramatic mountain peaks surrounding it. Once on top of the plateau, the restaurant and viewpoints show Norwegian architecture at its best, and the view from the top is a sight to behold.
Another spectacular attraction is Trollveggen, the highest vertical mountain in Northern Europe.
The Rauma Railway, built in 1924, is a must-see when visiting Åndalsnes. Lonely Planet named it "the most scenic train journey in Europe".
Experience the Romsdalen Gondola, a shortcut to the fantastic fjord and mountain views of Romsdalen. Located right above the town of Åndalsnes, surrounded by the famous Romsdal mountains, is Mount Nesaksla (697 m.a.s.l.). A state-of-the-art electric cable car takes you 1,679 m from the fjord and up the mountainside.
Who is this destination suitable for?
Ships dock in the town centre, within walking distance of the Rauma Railway and the Romsdalen Gondola, as well as charming shops and cafés. Ships up to 330 m can dock at Tindekaia cruise quay, and Åndalsnes has a wide variety of cruise ships visiting. The town of Åndalsnes is an ideal starting point for an active holiday.