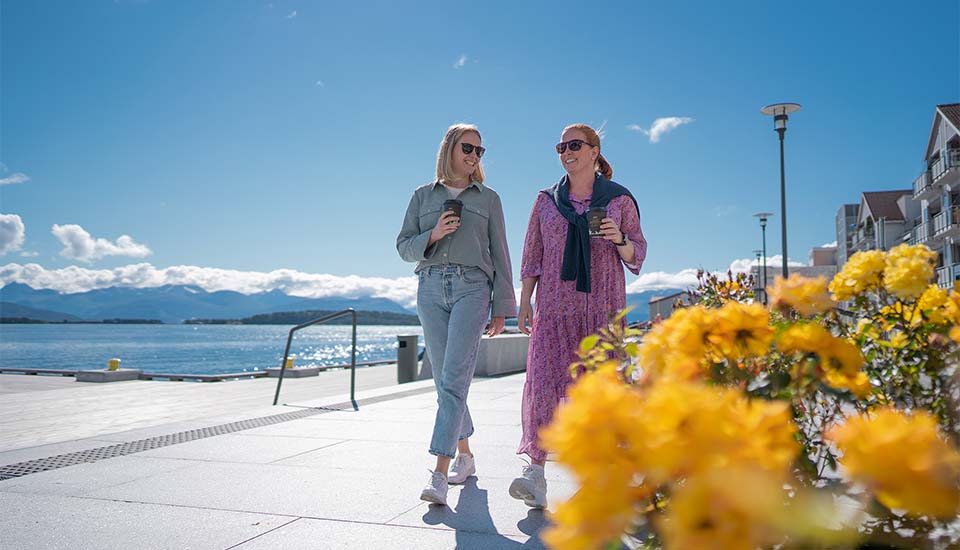 Why Molde?
Situated by the Romsdalsfjord, near the ocean, Molde is renowned for its beautiful surroundings and wonderful views. The most famous viewpoint is Varden, which allows you to enjoy the extraordinary vista of the Molde panorama's 222 mountain peaks.
If you ask a Norwegian about Molde, they will probably tell you that it's called the Town of Roses. The nickname was in use as early as 1913 and refers to the many lush rose gardens around the city. From July to September, the scent of roses fills the air.
Molde hosts the oldest annual jazz festival in Europe. Every year, thousands of jazz enthusiasts turn every corner of the city into a week-long music celebration during the Molde International Jazz festival.
What to see & do in Molde
Visit Molde, the town of jazz and roses, including Molde Cathedral, the Varden viewpoint and Romsdal Museum, one of Norway's largest and most comprehensive folk museums.
Don't miss out on a trip to the Atlantic Road, equally impressive both in sunny and stormy weather. The Atlantic Road zigzags across bridges and islands to the point where land and ocean meets the fjord. Enjoy a short stroll on the suspended walkway.
Board a Viking ship at the Atlantic Road and set sail for Håholmen island, an original fishing village from the 18th century. The wharfs, bakery and traditional fishermen's shacks have remained just the way they were.
Explore the mystical marble caves at Bergtatt. The caves are a result of mining operations and have been active since 1938. A boat ride into the caves offers visitors a unique and peaceful experience.
Who is this destination suitable for?

Molde welcomes cruise ships of all sizes. The 300 m long cruise quay is situated in the town centre, a few hundred metres from cafes, restaurants and shopping.