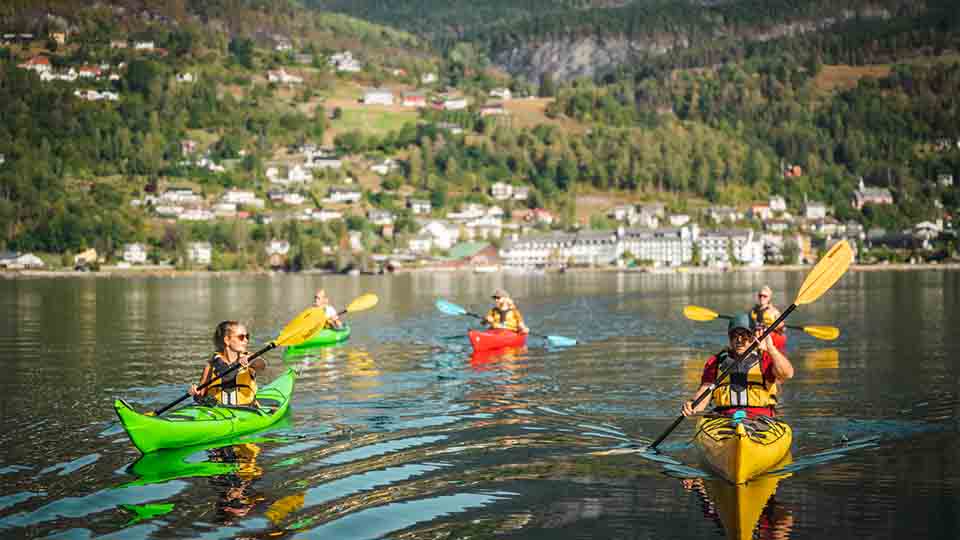 Why Ulvik?

In Ulvik, the tourism has been a permanent fixture of daily life for more than 150 years. The warm summers, tranquillity and lush nature have attracted holidaymakers for generations.
As the orchard of Norway, Ulvik and Hardanger are famous for the fruit blossom in May. From June until late October, we harvest sweet cherries, plums, pears and apples. Experience Norway's only fruit and cider route and sample the sights and flavours of traditional Norwegian farms.
Ulvik also offers an active holiday with a range of outdoor activities. The lush mountains and gleaming fjord invite hikers, bikers and kayakers to experience some of the best views Hardanger has to offer.
From a local marketplace in the town centre, to an array of dining places and cafes, and an art gallery in the nook of the Osafjord, planning your itinerary in this scenic small town will be a breeze.
What to see & do in Ulvik

Experience Norway's only fruit and cider route and sample the sights and flavours of traditional Norwegian farms. The fruit and cider route in Ulvik connects the fruit farms Ulvik Frukt & Cideri, Syse Gard and Hardanger Saft- og Siderfabrikk. Join a guided tour for a unique peek "behind the scenes" or sample some scrumptious goods from the farmyard shops.
Looking for an active stay? There is a variety of marked hiking trails in spectacular areas surrounding Ulvik. Between bountiful orchards, glistening fjords and steep mountainsides, there are plenty of options to choose from as you try to catch some of the best views in Ulvik.
Come and experience the best of the Hardangerfjord – on the fjord itself! Angr offers guided tours around the Ulvik and Hardangerfjord, as well as foundation courses in sea kayaks and rentals.
Enchanted by poetry and aesthetics? Olav H. Hauge's home and farm at Rossvoll await for a lyrical journey into the renowned poet's life and works, or you can visit the Olav H. Hauge Centre to learn more about the great poet. You may discover a variety of poetry in new and exciting ways.
In the town centre, you find the local marketplace Handelslaget. The shop features a range of locally produced and crafted products such as woven and knitted textiles, tasty treats and stunning pieces of pottery. You can also browse the works of local glassblower Syse Glas, and catch a glimpse of several pieces of Ulvik history in the store.
Ulvik Church towers in the heart of Ulvik. The stunning traditional cross-shaped parish church dons a beautiful rose-painted interior by local artist Lars Osa. The church is open to visitors who wish to see the traditions and culture of local Christianity up close and personal.
Who is this destination suitable for?
For those who like trips to places where you can taste local food and drink, discover local culture and lifestyle and local history and legends
For those who wish to go to a place with a quiet environment and get close to beautiful, unspoiled nature
For you those who like to visit historic sites, culture and experience nature, scenery and wildlife